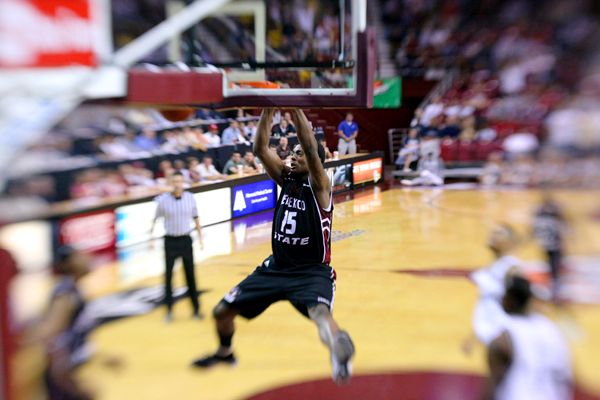 A big thanks goes out to Seton Hall Forward, Herb Pope, who took the time to answer a couple questions for Gonzo Ball this evening. Pope covered a range of topics including his experience at NMSU, the intensity of a Bobby Gonzalez practice, the depth of the Pirates roster and what fans should expect when he's on the court.
If you haven't checked out the Gonzo Ball player profile on Pope, please do so
here
.
Q: Reggie Theus was successful in recruiting you to come to NMSU, what was, or is, your relationship with Reggie like? A NY Post article referred to him as a "mentor," did you know Reggie before he recruited you?
Pope:
I got close to him during the process, but it was more his experience with playing in the NBA obviously and becoming a coach. He gave me the inside traits that I wanted to learn, that's what drew me there, he was the only guy that was a former player and head coach that recruited me. He showed me what it's like to be a big guard in the league.

Q: It was obviously important for you to get away from your hometown when choosing a school, but what did NMSU offer that other schools you were considering couldn't? Namely, Oklahoma, Memphis, Maryland?
Pope:
It was a change of scenery, everyone was just nice, nice people, people are very outgoing there, the community and by that, not just the people recruiting me, but the average person that didn't know me or anything about me, they were just nice people in general. It was a laid back environment, you know, people go there to retire, so, it was somewhere I needed to go to.

Q: At NMSU in 2007, the Aggies had a stacked non-conference schedule, including a visit to Cameron Indoor's and the Legends Classic where you were set to play Texas and WVU. However, the NCAA ruled you ineligible due to a high school internet class you had taken, a ruling that would later be reversed. Essentially, you missed a couple marquee games over a misunderstanding with the NCAA, what did you take from that experience given that the ineligibility really wasn't your fault?
Pope:
I looked at it as a mid-major program not knowing how to get you qualified. They were supposed to know what kind of classes I took and they were supposed to be able to tell them that information. There were problems with the paperwork from the beginning, the school didn't have the research paper from the class or the syllabus and they never filed the paperwork until the first week of school. So it just showed me, different programs operate differently. The school filed the paperwork, right around when the school year started opposed to filing the paperwork when I got down there in the summertime.

So the school submitted the paperwork the first week of school and at that point, was it a matter of the paperwork was late, or the Clearinghouse had made up their mind and weren't going to change their decision?
Pope:
Well, they pretty much took their time with it, they don't really rush anything, they don't care who it is, obviously, you see John Wall just got cleared, they don't really care.

Q: We see how passionate Bobby Gonzalez is during games, but how instrumental was he in the recruiting process once you determined you wanted to come back East?
Pope:
He had a lot to do with it, because he was the only coach that I had met from the program, I didn't meet any other coaches until after I talked to him, so he's actually the only guy that brought me here. He told me how he coached and all that, he didn't know what to think with how I'd respond to it, but that's the type of coach I've been playing for most of my life.

Hopefully, If I get a chance to go to the next level, I wouldn't mind getting another coach like that. He's good, he's fair, he makes you play hard at all times. There's some days when you go in there beat up and sore, and to him, that's not acceptable. The only way you're not practicing is if the trainer says you're not practicing.

Q: Coach Conzalez spoke on your relationship to Jet's cornerback, Darrelle Revis?
Pope:
Yeah, that's one of my good friends.

Did he put in a good word to you about the New Jersey area? Or did anyone else influence your decision in choosing Seton Hall?
Pope:
No, nobody put anything in, Darrelle, didn't have anything to do with me coming up here, my mentor didn't have anything to do with me coming up here, it was just a good fit, I did my homework. I wanted to come to the Big East, I wanted to come home and obviously this was the best position for me to come in and have an immediate impact.

Q: What is the intensity of a Coach Gonzalez practice like? Any glaring differences from Coach Gonzalez's practices compared to other teams you've been a part of NMSU and high school?
Pope:
He's got a motto, it's actually quite true, practice is the hard part, playing in the game is the easy part. He makes practice tough. That's how it is actually, it's the hardest thing to do.

Practice is tough and he expects you to make shots in practice, some guys will make shots in the games, and he'll hold you accountable for that and wants to see you play hard every practice. He wants you to make plays and do things outside of your comfort zone to try to push you and make you a better player, he says that's where it all starts, becoming a better player at practice.

Q: By adding you into the mix, the frontcourt now has a presence that was lacking last year. With Garcia returning, the freshman Ferrakohn Hall and of course, the big guy Oliver, the front court is looking pretty deep. I'm sure you know how tough the Big East is. The conference is known for it's toughness and banging down low, how do you feel your frontcourt will match up with these other heavyweights in the conference? Villanova, WVU, CT?
Pope:
I respect everybody's game, but, Bobby Gonzalez is a tough guy, and I think he recruited all tough guys, even myself. I personally consider myself a tough guy, we're looking forward to banging with everyone. I know some guys will outweigh me and be a little stronger, but it's all inside the chest man. If you have the biggest heart and desire and will, that mentality where you don't care what you have to do, to block a shot, or do just the little things to win, that's the guy that's going to have the better night that night.

Everybody on my team has a chip on their shoulder, we all got chips on our shoulders, so that will help us play that much more physical with those big guys in the post. Melvyn Oliver is huge, I don't see too many people out-muscling him, so coach will notice that. Obviously, his speed is a problem, but other than that, he's going to move some guys and make them play differently than where they normally play.

I've been reading about Melvyn, at 6'11-340, can he really get up and down the court?
Pope:
He does a great job at it, at running at his full speed that he can run. It's a little different to see him play in an up and down offense, but he can do it. We just have to change some things around and play a game that's suitable for him. He's obviously a tremendous talent, why not take full advantage of it? There will be some games where you really can't get out and run, because teams will know we're looking to get out in transition and run, they'll have plans on jamming the rebounders and turning it into a half court game and that plays into Melvyn Oliver's game.

Q: Can you speak a little bit on Jordan Theodore? Obviously Harvey will be starting this year, but people are definitely excited about Theodore's potential as his role will be increasing in the coming years. Can you see him becoming a leader of this team when his role expands?
Pope:
He's a young guy, he's been a point guard all his whole life, he wants to be the leader right away, but it's college basketball. I learned the hard way myself, game experience isn't teachable, you just need to learn things and go through it as the years go along. His ability is there, his work ethic is there, the game comes easy to him, so, he'll be a leader next year, hopefully, alongside myself. I pride myself on trying to be a leader out there, I lead by example, I want to show everyone to go as hard as you can go.

Q: Speaking of yourself committing to a leadership role, how would you describe your game? What can Pirate fans expect to see night in and night out from you?
Pope:
I'm a versatile player, I'm looking to do everything to win the game, at all costs it's all about winning, if I have to pass the ball all game, because I'm not open and available to do my thing, that's what I'm going to do. If it calls for me to block a shot, I'm going to block shots, I do everything man. I wear number 15, because I look at myself as a point guard through the center, that's the type of game I bring to the table, the versatility, someone who's going to do everything out there.

You mentioned you wear #15, because you see yourself as being able to play every position, the 1 through the 5?
Pope:
Yeah, I feel like I can play point guard through the center, and also Vince Carter, but 1 through 5 is the main reason I wear it.

Q: Looking back at the 2007 recruit class, Rivals listed you as the 8th ranked PF, behind the ranks of: Beasley, Hickson, Griffin and ahead of Dejuan Blair. You've played half of one college season, while the others have seen collegiate success and are now playing in the league. For that reason, do you feel you have a sense of urgency to make an immediate impact or do you have the mentality of taking it one game at a time?
Pope:
I'm going to take it one game at a time, but everywhere I've played I've had success, I feel like when I played at NMSU, I didn't play at 100%, due to the incident that happened, I wasn't allowed to practice with the team so I wasn't in the shape I could have been. Here, I was allowed to get a whole year in practicing with the team, I feel like I'm going to make a big impact. I don't want to be cocky or say anything, but I didn't sit out a year to come here and not play well.

I'm coming to play and I'd like to be a big factor just like Jeremy Hazell. It's always better to have three or four guys to contribute to point production, rebound and assist production. You need a bunch of guys like that to be a good Big East team. Robert Mitchell is another tremendous talent, I don't feel like I have anything to be upset about. I've got a young freshmen to back me up that is extremely talented that can start any given night in Ferrakohn Hall. Melvyn Oliver will come in, Robert Mitchell played the four, so why not, he can absolutely play the four again. Not to mention, Jeff Robinson when he gets onto the court.

Q: Herb Pope, NCAA Player of the Year or Seton Hall National Champion?
Pope:
Champion.

Easy Question for you?
Pope:
I mean, I played with Dejuan Blair all my life, I've played with Terrelle Pryor, I've played with D.J. Kennedy and every night, as long as I'm consistent and I do my thing, I don't care who scores the most points. I don't determine if I had a good game by points, I could have a lot of points and to let my man score 30 points when I score 30, well we'd cancel each other out, but if he out rebounds me, has more blocks, more steals and more assists, he's had the better game. I'm just trying to fit in. I'll reiterate it again, I will do anything to win, it's all about winning, I took NMSU to the conference championship, lost in triple overtime, two plays away from going to the NCAA Tournament.

Right and you guys won the regular season title right?
Pope:
Yes, I've only lost four games in my college career.

Q: Lastly, what's on the iPod 30 minutes before tipoff?
Pope: Actually, I listen to one of my friends, a rapper from my home town, Aliquippa, Pennsylvania, his name is B-Thang, I just love to listen to my man because he talks about some things that I know, he talks about what the struggle is like at home. I listen to Lil' Wayne and Nas, some old music. I don't like the new music as much. Nas is the best rapper, that's my favorite guy.

Thanks again, I really appreciate you taking the time to answer some questions for us, have you had a chance to check out the blog?
Pope:
Yeah, Gonzo Ball, I actually looked at it last night, man, it's pretty nice. It's a pretty nice site.
Thank you, hopefully the season works out well for Seton Hall and we wish you the best of luck on the upcoming season.
Pope:
Thank you sir.
Once again, Gonzo Ball is extremely appreciative of Herb reaching out to help a relatively new blog, best of luck this season!